Our Craftsmen
Mercedes Santana
For many years I have dedicated myself to the elaboration of small and large wallets of straw toquilla, I was taught my parents from the age of 10 years already over time I liked I started as an entertainment little by little since before there was nothing of the internet to pass the time sometimes I would knit 1 wallet in two days, then I was perfecting my  most  even fabric, tiñe the straw of different colors to combine and perform something different, already at my 40 years I continue with this specialty that God gave me, of braiding thin strands of straw toquilla, I like and fills me with pride to know that I will be known in the world as the lady of wallets.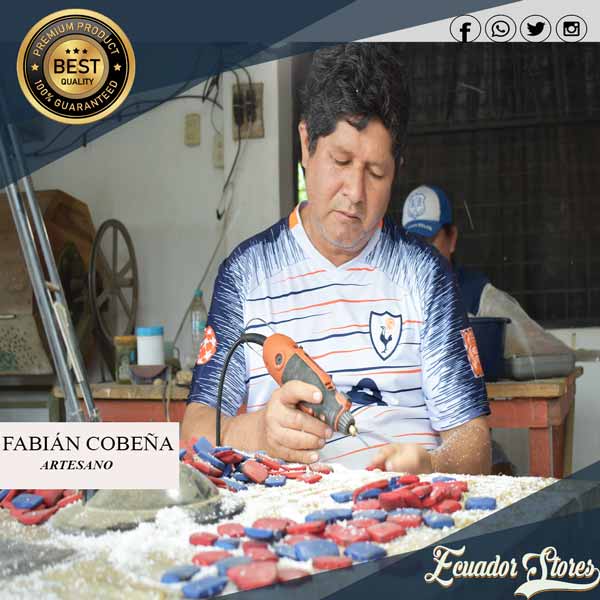 Fabián Cobeña
I have more than 25 years performing necklaces, earrings, bracelets, accessories in tagua, this art comes for generations, I have like 30 brothers of which we do not all know each, but most has been dedicated to tagua, I like to make new colorful designs to the customer's taste, if they bring some model I do to them, I am very hard worked for all these years I have been perfecting every day more, already at my 43 years I want to continue growing and leave the name of Sosote at the top, I thankhim  for showing my products on a website on a website to be able to increase the work in my land.
Julia Santana
I have dedicated myself to the elaboration and marketing of hats made with the mocora straw, I have 60 years of which most I have spent with this work, I take them to Montecristi so that they can exhibit the raw material comes from Paján,  but I finish them in my house in Calceta, it is the first time I have an interview and especially the opportunity to sell my products on the internet, I hope that it will fence them well successes and blessings.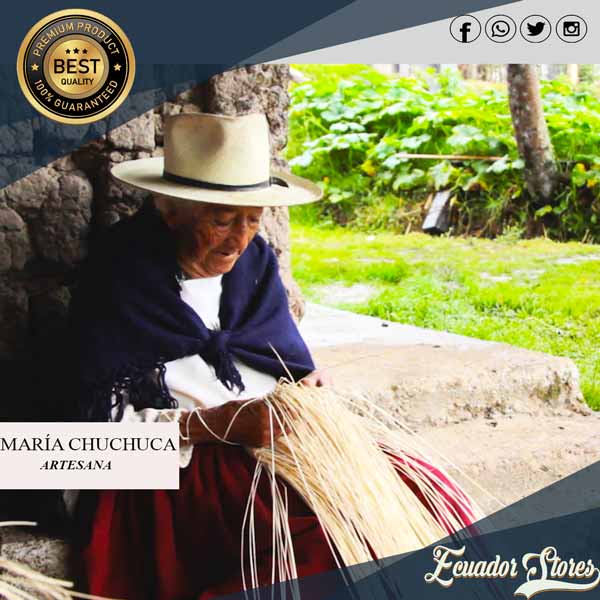 María Chuchuca
I am a weaver of breeze and plain hats here in Cuenca, I have dedicated myself to this trade almost all my life, here in different from little we teach us to go to the countryside milking cows, and doing things at home, I can weave until walking that is a great advantage, we are known as the cholas cuencanas for me is a pride that they know us like this, it is a pride that mismbretes can be sold on the internet so that the tradition that continues to know Ecuador as the country that makes the best straw hats.
José Jiménez
I have been making products in looms and alpaca for more than 30 years, this land called Otavalo is known as the valley of dawn almost all people engaged in this trade, our parents since childhood taught us that we had to work on something, in my case I was dedicated to carrying the raw material, selecting it from an early age I liked because even my friends did I saw it as something normal, already through time I have elaborated ponchos, scarves, shirts, sheets, gloves among others, products will be known many people  on this website, first hand thank you very much for supporting us.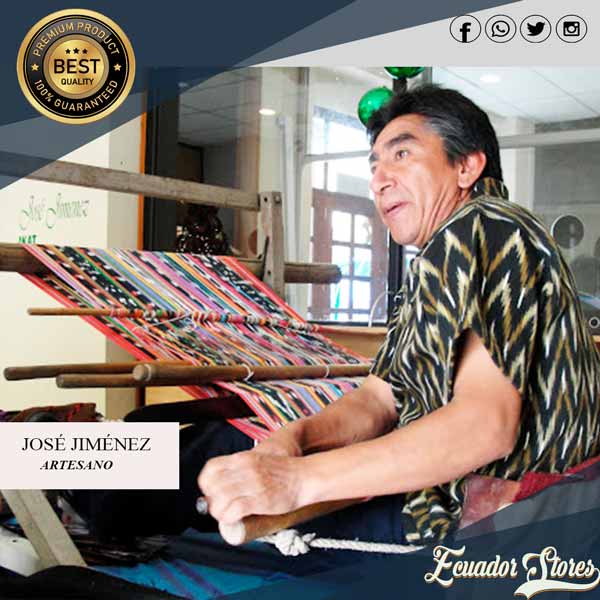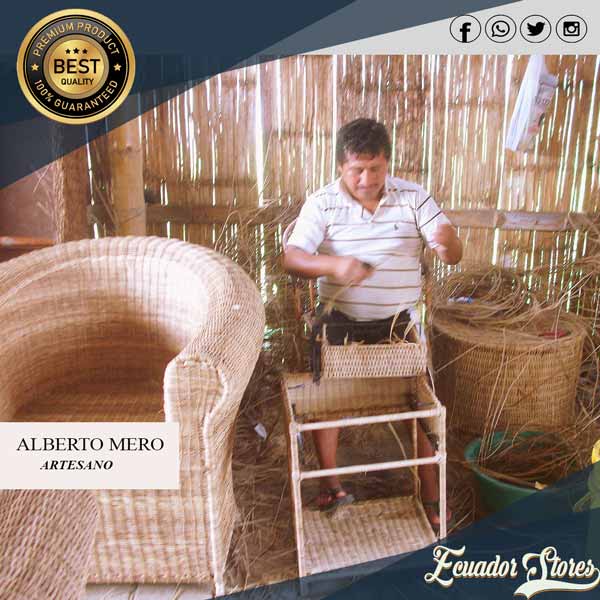 Alberto Mero
I am master of handicrafts made of fiber or wicker, I have been in this work 20 years, I am from Montecristi and during all these years this has been my profession and passion, I like to be interviewed my work because with that many people will know my work, to weave furniture are some days sitting sometimes with the help of a friend to finish it as soon as possible, in matters of wallets and individuals it is faster its elaboration, now people will be able to see my art on a website I am very grateful.
Fernando López
Lives in the site of Las Pampas of the canton Montecristi at 45 years old is the person in charge of performing the first phase of the process of making a hat that is the collection of the material craft that has been carried out by tradition of their parents who had large lands planted with this wild plant that grows in humid forests of the coast known as straw toquilla.
Fernando has been doing this trade for more than 20 years, which consists of going into the boque to cut the stem that is born in the middle of the plant which first proceeds to shake the stem against the floor so that it can be opened after this with a cow pooch splits of the stem remaining open with a disoside, it is taken to cook in a pot of boiling water for ten seconds after it is extracted it hangs in large cords where it will be dried, once dried put in large wood ovens where it is salted with sulfur.
This activity carried out by this lord is the only trade with which he supports his family and at the same time tells us that most people in that sector are engaged in that although there is not much they gain because there are two types of straws that are selected for hats fine that has a price of $12 a mallet with twelve buds and the straw of toys that as its name says is used to make baskets, accessories for ladies, individual among others and its price is $7 the twelve buds.
He therefore instills in his children all these traditions so that they can learn and help the home financially.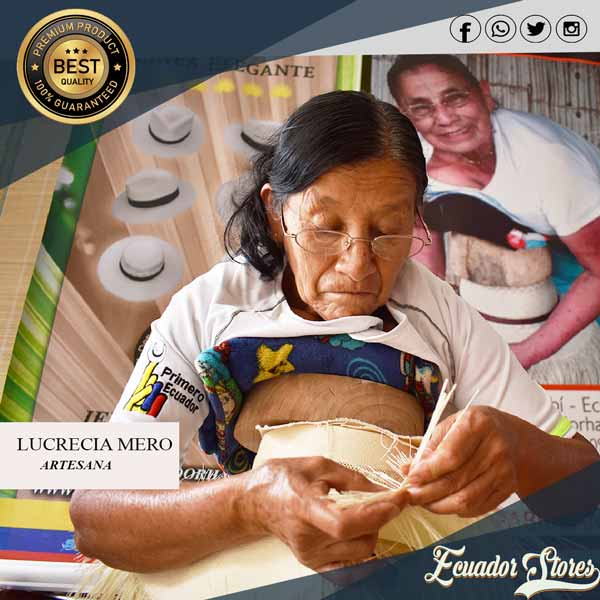 Lucrecia Mero Castro
Born in the canton Montecristi in the sector of Cerro Guayabal is 63 years old learned to knit from the age of 14 when her mother taught her to knit fine hats of straw toquilla, due to the high demand Hat that existed after the banana boom people did not stock up to make so many units in a certain period so they started teaching their children the elaboration of this work of art so that they could help the production and thus fulfill the orders.
Currently Ms. Lucrecia  lives in the commune of Rio de Oro belonging to the canton with her two children who also know how to knit straw baskets toquilla, Mrs.  Lucrecia is part of the second phase of making a hat that is the fabric she makes grade hats 13 to 17 in which it takes two weeks to three months to make a single hat in which two to three straw mallets are used with twelve buds each valued at $12, it should be emphasized that for fine hats no fine hats are uses all kinds of straw but the selected one that takes on a beige color, giving rise to a Panama hat.
This whole process is the one that Mrs. Lurecia does to obtain income that supports her expenses without taking into account other factors such as health since when performing this art it must be done in a semi-inclined posture so that the hat has a tight fabric.
She expresses that "people must be motivated so that they can continue in this elaboration and not let the production decline since this belongs to the occupation of several people who do not get a stable job because of their age."
Maria Mero Anchundia
At the age of 62 she is affectionately known as a girl María esunda of the Cerro Guayabal site belonging to the canton Montecristi, she learned the art of weaving with fiberstraw  toquilla (Carludovica  Palmata) at the age of nine, when her mother and grandmother were engaged in performing the same trade, which was the economic sustenance of the family at the time.
Mary leaning on the base where she finishes the hats tells us that
Since she has always lived in Montecristi city where she has 45 years of experience in being part of the third phase of making a hat commonly known as a finisher or finishing she is a senior and says that inside her house she lives with six people her son, her daughter-in-law and two grandchildren making her the fundamental pillar of economic livelihood of her home, which is why she is dedicated to teaching her family every day the trade of creating this great work of art , motivating them to continue this cultural and ancestral tradition so that this tradition does not end.